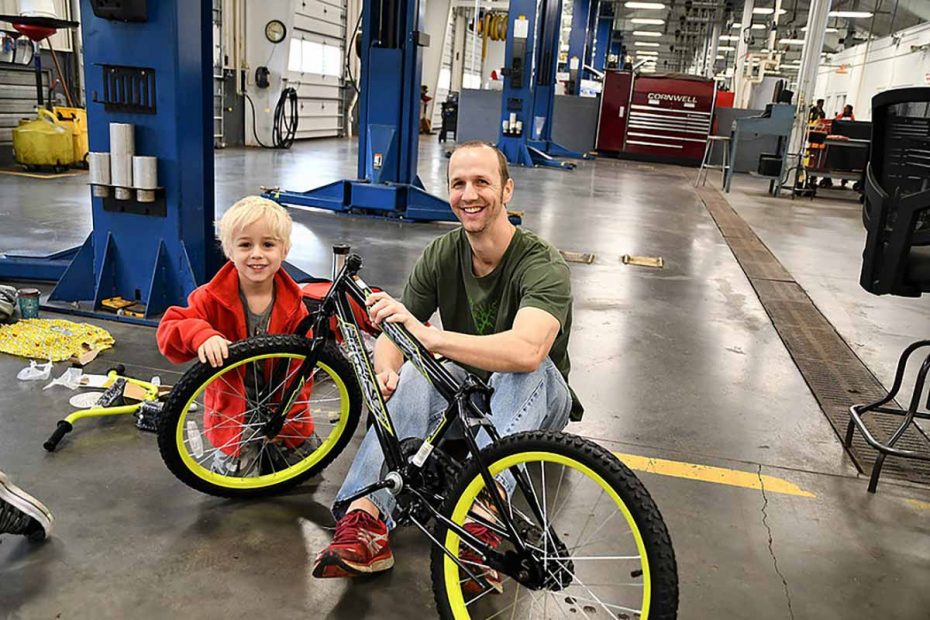 Bike build to benefit RMFY
Every family has holiday traditions.  For the Dome family, that tradition is giving their time to help make the holidays a little brighter for Right Moves for Youth (RMFY) students.
On Saturday, December 1st, the City of Charlotte and The Spokes Group hosted its annual Bike Build to benefit RMFY. City employees and their friends and family built the bikes, which were donated by The Spokes Group. The 75 bikes will be distributed to RMFY students before Christmas.  
"We are so grateful to the City of Charlotte and The Spokes Group for giving back to our students in the community," said Tayuanee Dewberry, RMFY Executive Director. "The best part is seeing the students' reactions when they receive the bikes. Absolutely priceless."
Joe Dome, a city employee, his wife Lauren, and their two sons, Joey 10, and Colin 5, make the Bike Build a family affair. The family has been participating in the Bike Build for eight years.  For the past two years, the boys' Boys Scouts Cubs (Pack 13) has joined in on the fun.
"I think this is a good way during the season to give something back," Joe said. "It's an easy, fun thing to do."
The Scouts had about 15 members and their families participate in the Bike Build. Some of the Cub Scouts helped build bikes with their families, while others  disassembled cardboard boxes and picked up any unused items. This year, Colin took more of a leadership role and tried to help some of the other Cub Scouts assemble the bikes on his own.
"This is a great way for the Cub Scouts to learn about teamwork and the importance of what they are doing today," Joe said.
Many of the city employees have been participating in the Bike Build for years."Our employees look forward to this event each year," said Chris Trull, Division Director for City of Charlotte Engineering & Property Management's Fleet Management Division. "It's great to watch employees bring their kids and other friends and family to spend a morning putting these bikes together."
For more than 10 years, The Spokes Group has donated 700+ bikes to RMFY. "The Spokes Group has had a longstanding partnership with Right Moves for Youth," said William Beard, Director of The Spokes Group. "We are more than happy to provide bikes as rewards for students."
To see photos from the Bike Build, click here.