Energy was high. Laughter was heard. Smiles were wide. Bellies were full. This was the atmosphere at the RMFY Volunteer Kick Off on October 22, 2019!
Every year, RMFY volunteers from Charlotte-Mecklenburg Schools, the Charlotte-Mecklenburg Police Department, Mecklenburg County Sheriff's Office, and countless other community entities gather in one place to launch another successful year of programming. All across the room, tables were decorated to represent various NFL teams – Carolina Panthers, Washington Redskins, Cleveland Browns, Dallas Cowboys, Saints, etc. Volunteers showed up with jerseys, shirts, and hats representing their favorite teams. And after the digestion of food and necessary training information, volunteers were given three instructions: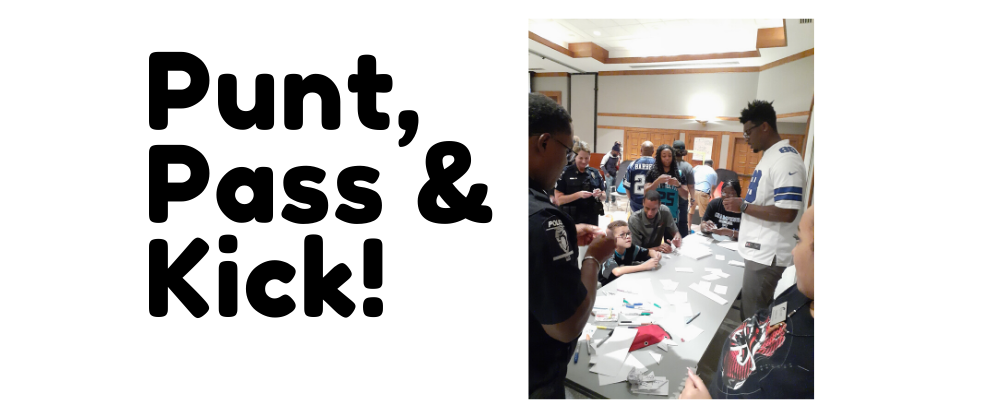 Punt, Pass & Kick was the activity that invited volunteers and RMFY Program Specialists to simulate a RMFY group. Combining group activities with powerful processing time, volunteers were asked think about these things to have a successful RMFY year:
Punting away any toxicity that hinders you from succeeding and being your best self.
Passing on to others positive words and knowledge that can help them succeed as well.
Kick-starting the year with intentional, positive actions and behaviors necessary to set up success.
The dynamic in the room was truly amazing. The sounds of whistles blowing filled the room only to ad-lib the cheers and affirmations of "Yay!" And "Great job!" And "You've got this!" Volunteers left inspired to go out and do this work another year – building strong and positive relationships with over 1600 teens so that they can become thriving adults. We are so grateful for all of our volunteers who punt, pass and kick to build better lives through extraordinary relationships!