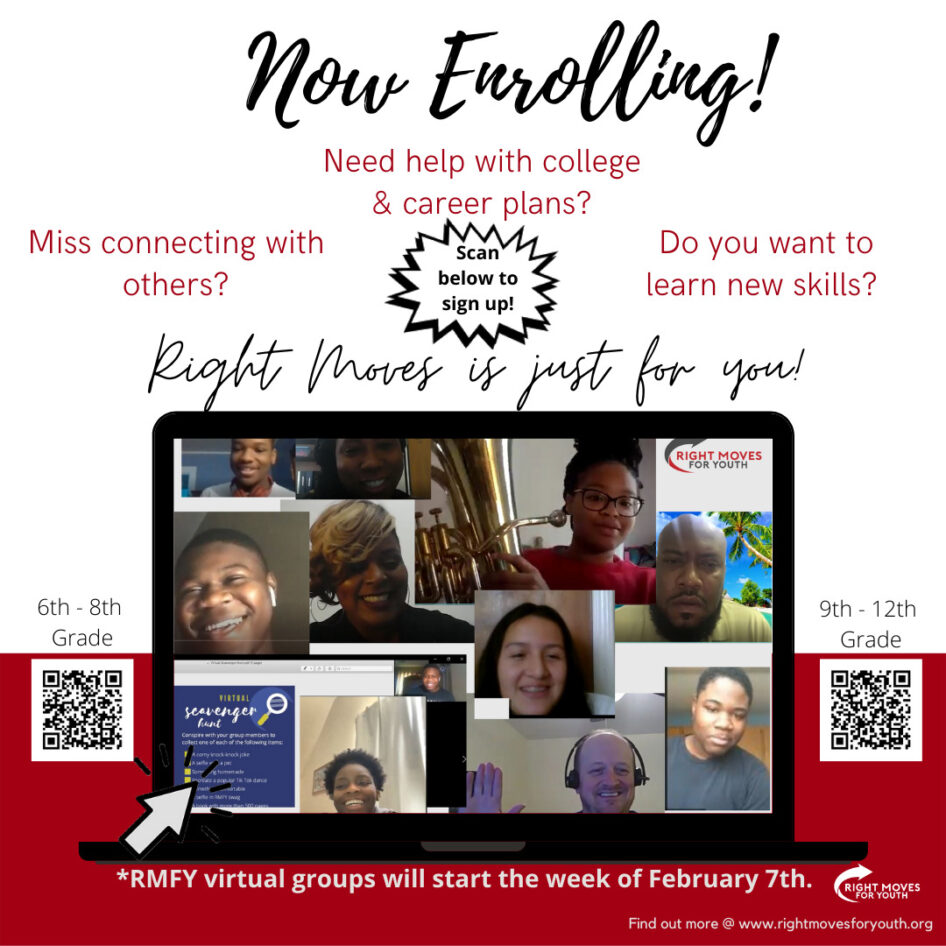 RMFY Virtual Group Signups are LIVE!!
We hope your new year is off to a fantastic start and we are just dropping in to let you know that enrollment for Right Moves For Youth (RMFY) virtual groups is now open!
Right Moves For Youth is still committed to providing students in grades 6 – 12 with resources and guidance to graduate high school with a plan for their future success. Because we are unable to do so through our traditional in-person service to all schools in CMS, RMFY is gearing up to launch our virtual groups in order to offer the same quality resources and support to other students and families in city of Charlotte.
While we may have all had our fair share of Zoom, virtual participation is the best option at the moment to keep everyone connected to the program we've all come to know and love.
Students are eligible to participate in RMFY virtual groups if they are:
current 6th – 12th graders, attend a school in CMS that is not on our 21-22 Site List
and/or if the capacity for in-person groups at their school(s) has been reached.
RMFY virtual groups will start the week of February 7th. In the meantime, students/parents can get a jump on the process by signing up for a group time that best fits their schedules HERE.
Once a student signs up for a group, a RMFY staff member will be in touch to provide them with additional information. Please share this information with parents, students, and other networks that may be interested. Any questions regarding virtual programming for RMFY can be sent to Program Director, Allison Willis via email at awillis@rightmovesforyouth.org.
Thanks and we look forward to partnering with you for another amazing year!
(6th – 8th) Middle School Virtual Group Sign Up
(9th – 12th) High School Virtual Group Sign Up