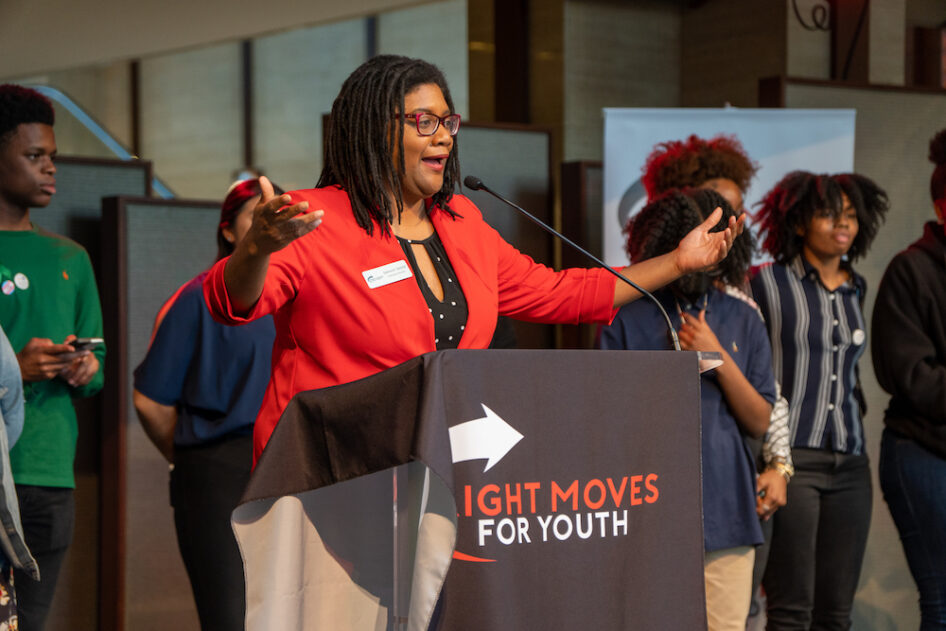 Solutions For The Next Generation – a word from Executive Director, Sabrina Gilchrist
A word from Executive Director, Sabrina Gilchrist:
Right Moves For Youth is synonymous with solutions for the next generation.
It goes without question that our society continues to plow its way through these most challenging times. No one would have guessed that we would be dealing with a pandemic and its aftermath. As a country, we continue to face other pandemic illnesses such as racism, classism, heterosexism – basically, any -ism that tears away at the dignity and humanity of one another.
Challenges to mental health continue to rise as our nation faces a crisis. Every day, wars continue to plague our world as our global economy shutters. To say that our country has suffered an immense level of trauma is an understatement. Make no mistake, our children feel every bit of it as much as we do. Across the nation, they have struggled to engage in their education, and there are many issues at the root: economic inequity, concerns for safety, feelings of isolation and despair, and cracks in our education system, to name a few. And yet, there is hope.
This year served as a testament to the resilience of our community and especially our children. As Right Moves For Youth wrapped up the school year, I felt the flames of hope. At our Ambassador Presentation Night, I listened to our children speak. I heard them declare the need for empathy and support for vulnerable populations. They raised awareness and funds for organizations helping some of our most underserved neighbors: the LGBTQIA population, those suffering from mental illness and facing the threat of suicide, people affected by human trafficking, and other youth who need inspiration and hope that they can succeed in the world. Just a week later at our Awards Ceremony, I looked at the faces of our Group Members of the Year, Ambassadors of Excellence, and Distinguished Seniors and realized that despite how difficult this time may be, our amazing children not only have answers, but they are the answer. Through their speeches and conversations, I heard these young people say in one form or another that with the support of Right Moves For Youth, they learned how valuable they are and that they have the ability to make a difference. They are the reason that our nation will rise above the current challenges and that our world will be a better place. Right Moves For Youth is synonymous with solutions for the next generation because we help them realize that they are the solutions. Dear friends, look at what your investment does every time you contribute to Right Moves For Youth!
We have much more work to do, and we can't do it without you. As we look ahead to another great year, please remember that RMFY needs your time, your skills, and your dollars to keep building better lives through extraordinary relationships. Please take time to see the momentum that we created in this past year by checking out our 2021-2022 Impact Report below.
If you haven't done so already, please consider making a financial gift by June 30, to assist us in creating more solutions for the next generation.